After the 1080p hosted on MediaPro, here is the Anime-Drift exclusive BD720p version done by myself.
The 1080p links will be removed, replaced by the 720p ones on free account.
ElManouche
's upload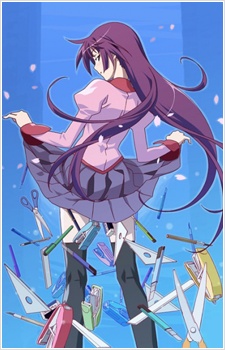 Details :
- title : Bakemonogatari
- other titles : Ghostory / Monstory / 化物語
- Genre : Mystery, Romance, Supernatural
- Year : 2009 - 2010
- Format : 15 episodes (~24min.)
Synopsis :
The story centers on Koyomi Araragi, a third year high school student who has recently survived a vampire attack, and finds himself mixed up with all kinds of apparitions: gods, ghosts, myths, and spirits.
Source :
MyAnimeList
File's Infos :
- Container : Matroska
- Video : 1280x720 x264 @~2200kbps
- Audio : LC-AAC Stereo @~256kbps
- Subs : "Coalgirls" ASSA (english)
info :
Since i also had to remake all chapters (to replace matroska external UID segments) and some subs timings, then there might be some errors, then tell me in comments. Btw, linked OP/ED should work correctly, i tested it.
Don't forget to DL the OP/ED files first...
AND THE FONTS
(Bakemonogatari_fonts.rar)
[ZaMpa]