Troll serie, really fun ^^
ElManouche
's upload :]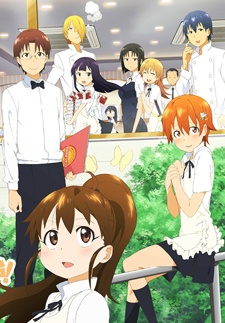 Details :
- Title : Working!!
- Other title : Wagnaria!! / ワーキング!!
- Genre : Comedy, Slice of Life
- Year : 2010
- Format : 13 episodes (~24min.)
Synopsis :
Set in a family restaurant in Hokkaido, the northern prefecture of Japan, 16 year old high school student Takanashi Souta works part-time along with his strange co-workers: Taneshima Poplar, a high school girl who's a year older than Souta and easily mistaken for an elementary/middle schooler, and Shirafuji Kyouko, the 28-year old store manager who doesn't bother to do any work at all.
Source :
MyAnimeList
File's Infos :
- Container : Matroska Video (MKV)
- Video : 848x480 x264 @~740kbps / 1280x720 x264 @~1595kbps
- Audio : LC-AAC @~128kbps / LC-AAC @~160kbps (japanese)
- Subs : #SHiN-gx" & "Chihiro" ASSA (english)
[ZaMpa]