Refreshing one ~
ElManouche
's upload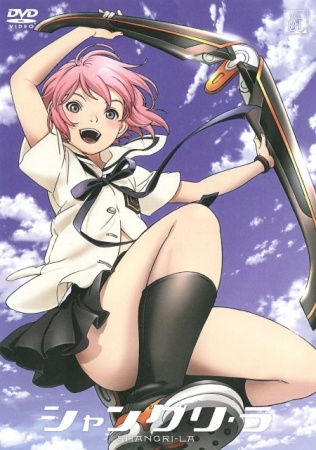 Details :
- title : Shangri-La
- other titles : シャングリ・ラ
- Genre : Action, Drama, Sci-Fi
- Year : 2009
- Format : 24 episodes (~23min.)
Synopsis :
A striking vision of Earth's future from some of Japan's foremost creative talents, SHANGRI-LA is a tale of greed and division vs. bravery and the human spirit. Set against the backdrop of a Tokyo cityscape turned into a teeming jungle by runaway global warming, with the elite living in the comfort of the tower city, Atlas, and the less-privileged masses struggling in the squalor in the jungle – only one girl, Kuniko Hojo, and her band of guerrillas can find a way to preserve the future for everyone..
Source :
MyAnimeList
File's Infos :
- Container : Matroska
- Video : 1920x1080 x264 @~3100kbps
- Audio : LC-AAC stereo @~192kbps (japanese)
- Subs : "O-L" ASSA (english)
[ZaMpa]